Steel Erection
With nearly eighty years in the conventional steel erection business, Henry Gurtzweiler Inc. can make your conventional steel building come alive with ease and dependability.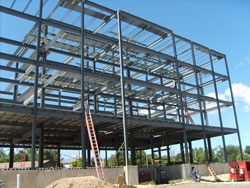 Conventional steel erection is when the erector company works on the building job site and completes the steel framing or structure. This differs from pre-engineered steel buildings, as all of the work is done on site according to the engineers specifications. However, the steel beams which are used to construct the frame are manufactured off site and then brought in to be pieced together.
Structural steel installation is done by the use of cranes, elevated work platforms and lifts as the structure progresses from the bottom up. Before any work begins with conventional steel erection, safety measures are taken to ensure the safety of the workers. Safety is obtained by setting up edge rails and safety netting. Steel teams work together to bolt the pieces of steel together by the use of hand and power tools.
Conventional steel erection is common in many types of building projects. Office buildings, skyscrapers, schools, convention centers and arenas are a few of the structures that commonly use conventional steel frames in their structures. Along with steel frames, many of these structures also use steel reinforcement in concrete walls and foundations.
Henry Gurtzweiler Inc. has years of experience in conventional steel erection. You can trust that no matter how small or large your conventional steel project is, Henry Gurtzweiler Inc. can suit your needs.