Rigging in Ohio & Nationwide
Henry Gurtzweiler Inc. can handle all of your rigging needs. With nearly 80 years in the business, you can assure that when you hire Henry Gurtzweiler Inc., you will be provided qualified rigging specialists and reliable equipment to get the job done.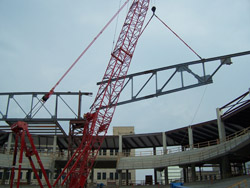 What exactly is rigging? Rigging is either moving or lifting heavy loads that often weight several tons. Rigging equipment is lightweight, but has the ability to lift or move large and heavy pieces of equipment and supplies.
What type of projects typically have the need for rigging? When erecting steel buildings, rigging is used to hoist large pieces of steel and other heavy building materials up to the level they need to be used at. In a city, it is common to see cranes rigging long steel beams up to the high levels of skyscrapers and buildings.
Rigging is not only used in the actually construction of the building, it is also used to place equipment such as industrial air conditioners or heating systems where they need to go. Rigging can also be used in residential construction to place prefabricated homes on foundations or place the pieces of the home together.
There are several advantages to rigging, such as the ability to get heavy equipment or materials to where they need to be quickly. Rigging equipment can be set up in a short period of time and is also a safe way to get heavy materials in the air and placed where they need to be with accuracy.