Welding Services in the Toledo Area
Need a welding job completed on new or existing structures? Henry Gurtzweiler Inc. can take care of any welding job you may have in Toledo and surrounding areas. Since Henry Gurtzweiler Inc. values saying yes when everyone else says no, call us no matter how complicated the job may be.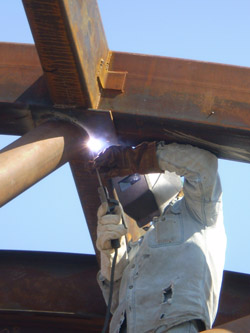 Simply put, welding is the process where two materials are joined together by liquefying the places on the material that need to be bonded. Welding is a trade that was first used by blacksmiths hundreds of years ago by using the method of forge welding. Forge welding happens when metal components are heated by flame and then pounded together to create the bond. Luckily today, technology has enabled the welding industry more efficient methods of joining metals together. Welding methods today include such methods as gas metal arc welding and shield metal arc welding. These welding methods assist in the erection of steel and other metal buildings across the country.
Welding is a delicate process that has to be done with precision and care. Henry Gurtzweiler Inc. employs many of the industry's finest and experienced welders in the business. Our qualified team of welders will assist in bringing your new structure to life or help maintain welds in existing structures. Henry Gurtzweiler Inc. has been in the industry going back to 1929 and has a proven track record of professionalism in the field.